Diagnosis and Treatment Guide for your Practice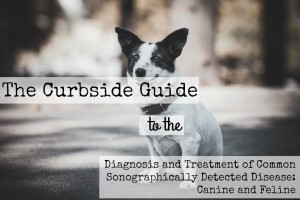 We are thrilled to announce the release of: The Curbside Guide. It's a pragmatic internal medicine manual that melds the medicine with the sonogram, focusing on diseases that are commonly diagnosed with ultrasound in small animals.
The Curbside Guide is an easy-to-read reference guide tailored to general practitioners, sonographers, residents and specialists for internal medicine. It offers the latest information on:
Pancreatitis

Mucoceles

Acquired and Congenital Cardiac Disease

Adrenal Tumors

Urinary Pathology

…and anything else a probe will find!
This pathology-based resource can be rapidly accessed in between exams, phone calls and procedures – resulting in improved quality and pace of your daily workflow. The manual provides experience-based guidelines by means of medical and sonographic reasoning to avoid misinterpretation of the case and to stimulate objectivity. 
What originated as study notes and guides for author Dr. Eric Lindquist's 2003 ABVP exam, grew into a comprehensive, well documented reference manual collaboration between Lindquist, Johanna Frank, Remo Lobetti & Peter Modler to reflect the latest and greatest information for 2016!
The Curbside Guide
eBook
$89
The Curbside Guide
Paperback
$109
The Curbside Guide Combo Pack
eBook & Paperback
$179
"The Curbside Guide is an essential practical guide to managing patients affected by pathology identified by clinical signs and ultrasound. Ultrasounds are not just about an image or clip. The information obtained in combination with examination, radiographs and ultrasound is concisely and effectively presented as well as treatment anecdotes and research based recommendations. The Curbside Guide sets itself in the top books to have at an arm's length in your clinic."
Dr. Anne Chauvet, Critical Care and Veterinary Specialists, Sarasota, FL
The Curbside Guide authors:
Eric Lindquist, DMV, DABVP, Cert. IVUSS

Johanna Frank, DVM, DVSc, Diplomate ACVIM

Remo Lobetti, BVSs, MMedVet, PhD, DECVIM

Peter Modler, DVM, Dipl.-Tzt.

Nele Ondreka, DipECVDI